Exclusive Harmony Glasses
Available in both Composite and Modern PVC-U doors
You're Home with Hurst
Offering the finest quality doors that combine security with style
You're Home with Hurst
Offering the finest quality doors that combine security with style
PVC-U Door Panels
When you buy from Hurst you can be confident you're buying from the experts
Design Your Door
With thousands of door combinations to choose from, design the perfect door for your home today and receive a quote from your local installer!
Exclusive Harmony Glasses
Available in both Composite and Modern PVC-U doors
Safe and Secure
All of our engineered locking systems meet the highest standards for enhanced security performance.
As the UK's largest manufacturer of PVC-U door panels, composite doors and fire doors, we're committed to finding the best door solutions for you.
With over 20 years' experience delivering quality doors across the UK and Europe, Hurst is here to support trade customers with marketing support, live order-tracking and a personalised service.
Find out what we can do for you today and discover the many ways Hurst can make you feel at home.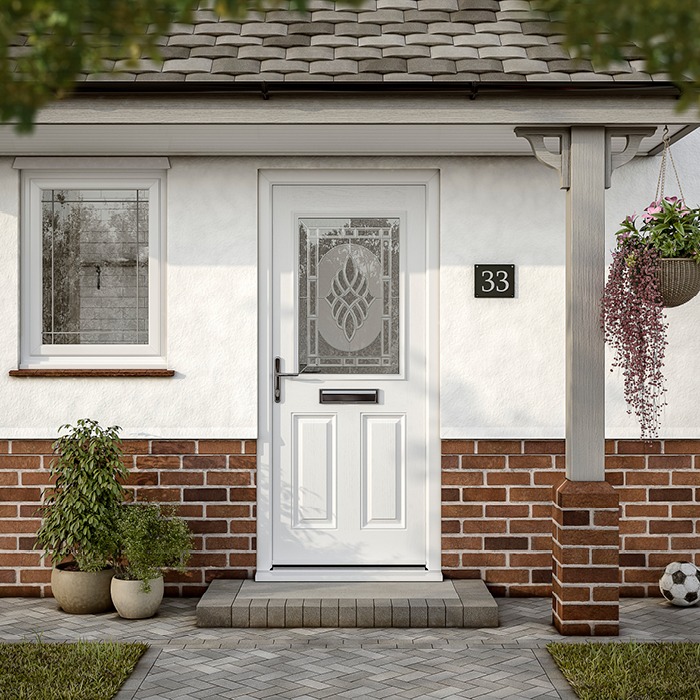 Composite
Doors
Our stunning Composite Collection provides a vast array of classic and contemporary door styles, over 1,600 colour options as well as a wide range of complementary glazing designs and hardware options.
PVC-U
Door Panels
As one of Europe's leading PVC-U door panel manufacturers, our PVC-U door range is expertly crafted with a choice of styles to suit any home.
Fire
Doors
The new and compliant Neuma fds fire door solution has proven consistently to pass the bi-directional fire resistance test, satisfying the UK's National Test standards as well as the demanding European test standard EN1634 for fire door safety.
Design

your Door
With thousands of door combinations to choose from, design the perfect door for your home today and receive a quote from your local installer.

Style
Colour
Glazing
Hardware
Get a Quote
Design Your Door
The Hurst
Difference
Our 50 years of manufacturing pedigree tells us that you want great product choice, easy ordering and a personal service you can depend on. That's exactly what we do, so you'll always know you're home with Hurst."

Mark Atkinson, Sales Director
Order and quote composite doors and PVC-U door panels online 24 hours a day, 7 days a week!
Place new orders, view live and current orders and access over two years of order history with ease.
With helpful delivery tracking, we can ensure you always stay in the know, keep your customers informed and arrange your working day efficiently.
Benefit from our marketing support with free brochures, images and technical downloads. All you need to promote our doors and your business!
Packed with useful features and Hurst's complete composite door range, The Hurst Door Store has everything you need to help your business succeed online.
Highly recommended supplier of quality doors. We are more than happy with the look and have had comments from many people especially with the grey door paired with the black door furniture.
Jackie Evans
"We chose a Hurst Door as we absolutely loved the colour range and styles we could choose from. The quality is just exquisite. We really do love it."
Kristian Thomas
"Hurst was recommended to me by my local supplier and they had a great choice of design colours and accessories. It's solid, feels secure and has a feel of quality about it."
Nick Drake-Knight
"Absolutely love my new Rustic Cottage composite door. I wanted something a bit different and quirky and the black heritage door furniture definitely gives it that look. Getting lots of compliments from passers-by. Quality and service spot on!"
Nancy Ibbitson
"Thoroughly recommend Hurst Doors – incredible range of high-quality composite front doors – I'm really pleased with mine!"
Colin Jones
"I'm really pleased with our new front door from Hurst Doors. This classic, elegant style makes the entranceway to our home a real focal point. What a treat to come home to every day!"
Adam Goggin-Jones
"I really do love my front door. I have some very envious neighbours!"
Julie Perry
"We chose a Hurst composite door because it was aesthetically pleasing and cost effective. The classic style goes well with the style of our house. I most like the Silk Grey colour and the house feels much warmer since the door was installed."
Kelly Palmer
We have just had a magnificent front door made by Hurst Doors and fitted by First Glass. The heating thermostat was in the hall so the new double glazed door and side panel should reduce our heating bills as well. However to be fair we just like the look of it!
John Corry
How will you be decorating your front door for Christmas? 🤔 4 days ago